Dear all friends of the Palestine Foundation,
Please join us on Saturday, March 19 for the annual Walk for Water in Palestine!
We'll begin the Walk at 10 am (registration at 9:30 am) at Mile Square Regional Park in Fountain Valley. This 5K community walk not only commemorates Land Day, it raises funds to support clean water in Palestine.
This year, our goal is to raise $25,000 to support an important project under consideration.
Last year, the Walk for Water in Palestine raised funds to install a desalination unit at Beit Hanoun Girls' School in the Gaza Strip. The successful installation of this unit means that, in the words of student Mariam Musleh, "now we have clean water whenever we want it."
Your contributions make a real difference in the lives of Palestinians. Join our Walk for Water 2023 to continue to build on these important achievements.
Nadeen Ayoub, Miss Palestine and Miss Earth - Water, endorses our Walk for Water!
Nadeen Ayoub, Miss Palestine and Miss Earth - Water 2022, shows her support for the Walk for Clean Water in Palestine!
Ayoub, a model and fitness trainer from Ramallah, became Miss Palestine 2022 and then went on to place in the top four in the Miss Earth pageant, becoming Miss Earth - Water. This is the first time someone from Palestine has ranked so high in a major beauty competition.
"For me, it was an opportunity to be a voice for the Palestinian people, and be up there and speak about us on a global stage," she told The National. "I was not just there as a beauty queen, but I was representing my country, its culture, designers and artists — everyone who helped me along the way to represent my country."
We thank Nadeen for her support and invite all of you to join us in supporting the Walk for Clean Water in Palestine on March 19!
Palestine Foundation: Major contributor to the Center for Children with Autism in Amman, Jordan, Schneller refugee camp
The Palestine Foundation is supporting the American-Palestinian Women's Association, Alternative Path Training School located in Virginia and Ana Huna, a nonprofit charitable organization in Amman, Jordan, to provide autism therapy and interventions to children with autism and other co-related conditions at the Schneller refugee camp.
Living in an area of 0.92 square kilometers. the camp is home to 55,000 Palestinian refugees living in poverty, in addition to 22,000 people of other displaced nationalities. There are minimal services for people with disabilities (PWDs) in Schneller Camp.

The total budget for the project is $22,000, of which 45% was funded by Palestine Foundation (https://palestinefoundation.org/), 27% was funded by Jerusalem Fund (https://thejerusalemfund.org/) and the remaining funded by APWA.
SAVE THE DATE!
Details will be forthcoming shortly about the Palestine Foundation's annual Spring Benefit Concert. Mark your calendars today for April 30, 2023 at 6:00 pm.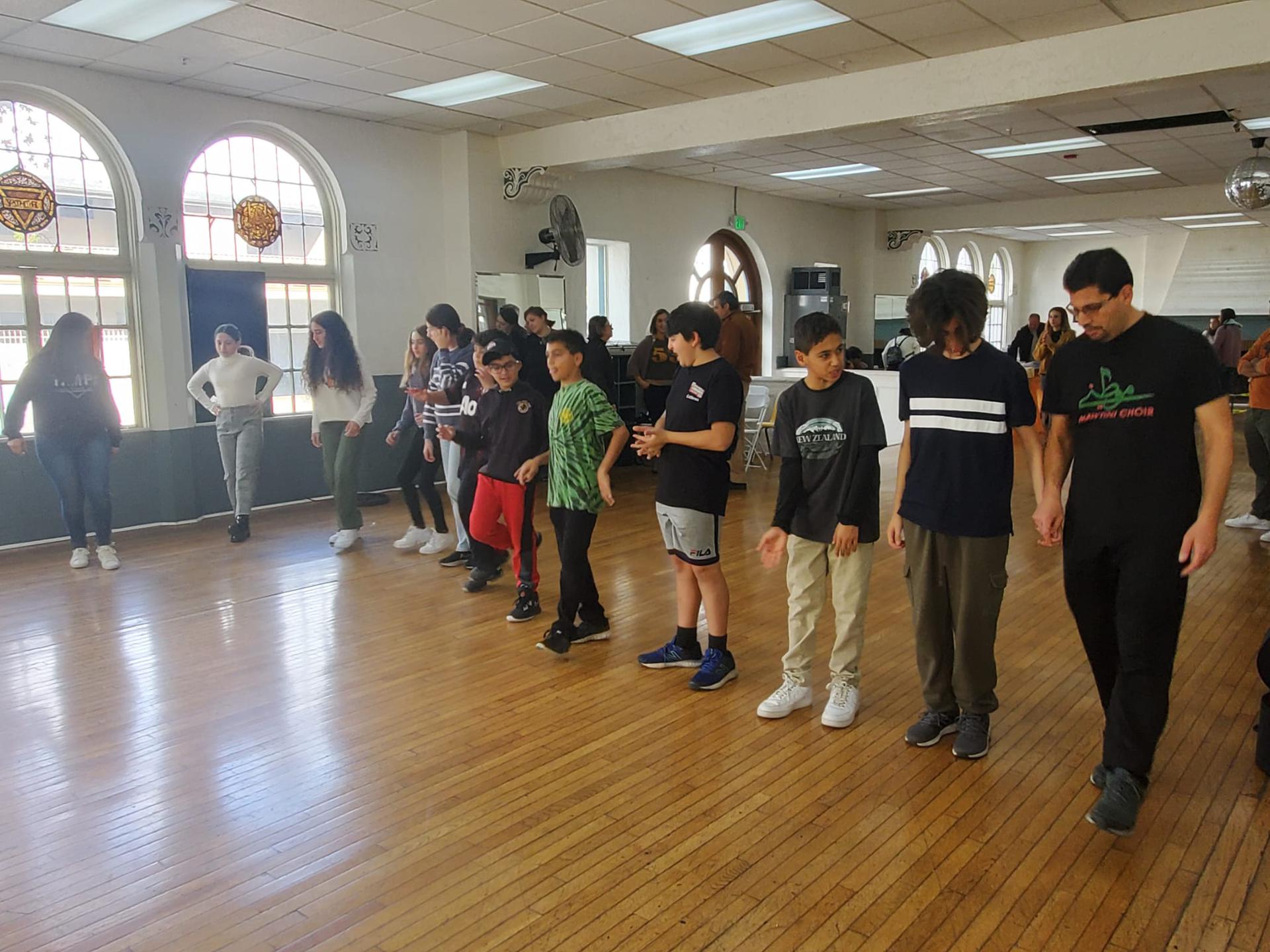 After a remarkable debut concert last Fall, the Mawtini Choir kicked-off a new season this Winter with new repertoire, new members, and new activities. With a possible new permanent practice space donated by the Glendale YMCA, the Choir has added Dabke as a new activity, which seems to have energized the members, their parents, and the entire community! Choir members, growing in number, are also practicing new material for solo and group songs, as well as the Oud, Tablah, and other instruments. An Oud Club will debut in February.
The newest activity, however, is the introduction of musical theater. Not currently common in the Arab World these days, musical theater was an essential part of the music scene a few decades ago especially with Lebanese musicals spreading in popularity worldwide. The Choir has selected a handful of popular musical theater songs that involve a bit of acting and dialogue in addition to singing. The Choir members are excited about this genre (when they stop giggling) and are enjoying material their parents grew up listening to.
Mawtini has just started dabkeh lessons! To get involved, email us at info@palestinefoundation.org, or call us at 800-436-7400.
We are looking forward to a successful Walk for Water and many more exciting events in the months to come, providing direct support to important health, arts, education and habitat projects in Palestine.
Thank you,
The Palestine Foundation
Copyright © 2022 Palestine Foundation, All rights reserved.
You are receiving this email because you're an amazing person looking to make long-lasting positive changes in Palestine.

Our mailing address is:
Palestine Foundation
PO Box 791
Palos Verdes Estates, CA 90274

Email us: info@palestinefoundation.org
Call us: (970) FALESTN

A 501c3 Organization ● Tax ID: 47-5085277

Changed your mind? You can unsubscribe at any time.