Dear all friends of the Palestine Foundation,
On behalf of the Palestine Foundation, we are with our people in Gaza, Nablus and elsewhere, who continue to uphold and protect their rights and dignity despite the most abhorrent attacks against our civilian population. We honor the martyrs and the wounded, and pledge to continue to uplift them and their sacrifices through our initiatives, charitable support and cultural projects.
We invite you to join us for a very exciting U.S. tour of Palestinian singer and producer Dalal Abu Amneh, who we will host in San Francisco, Los Angeles, Houston and New Jersey in September and October. Your sponsorship and support are sought for these benefit concerts, which, like all the work of the Palestine Foundation, go to directly and sustainably support our people. Please contact us at info@palestinefoundation.org to learn more about becoming a sponsor!
Please read more below about three important initiatives:
Dalal Abu Amneh's U.S. Tour

Palestine Comedy Festival

Mawtini Tatreez and the Mawtini Bazaar
As always, your support enables us to keep building, supporting and expanding our initiatives to directly and sustainably support our people.
Thank you,
The Palestine Foundation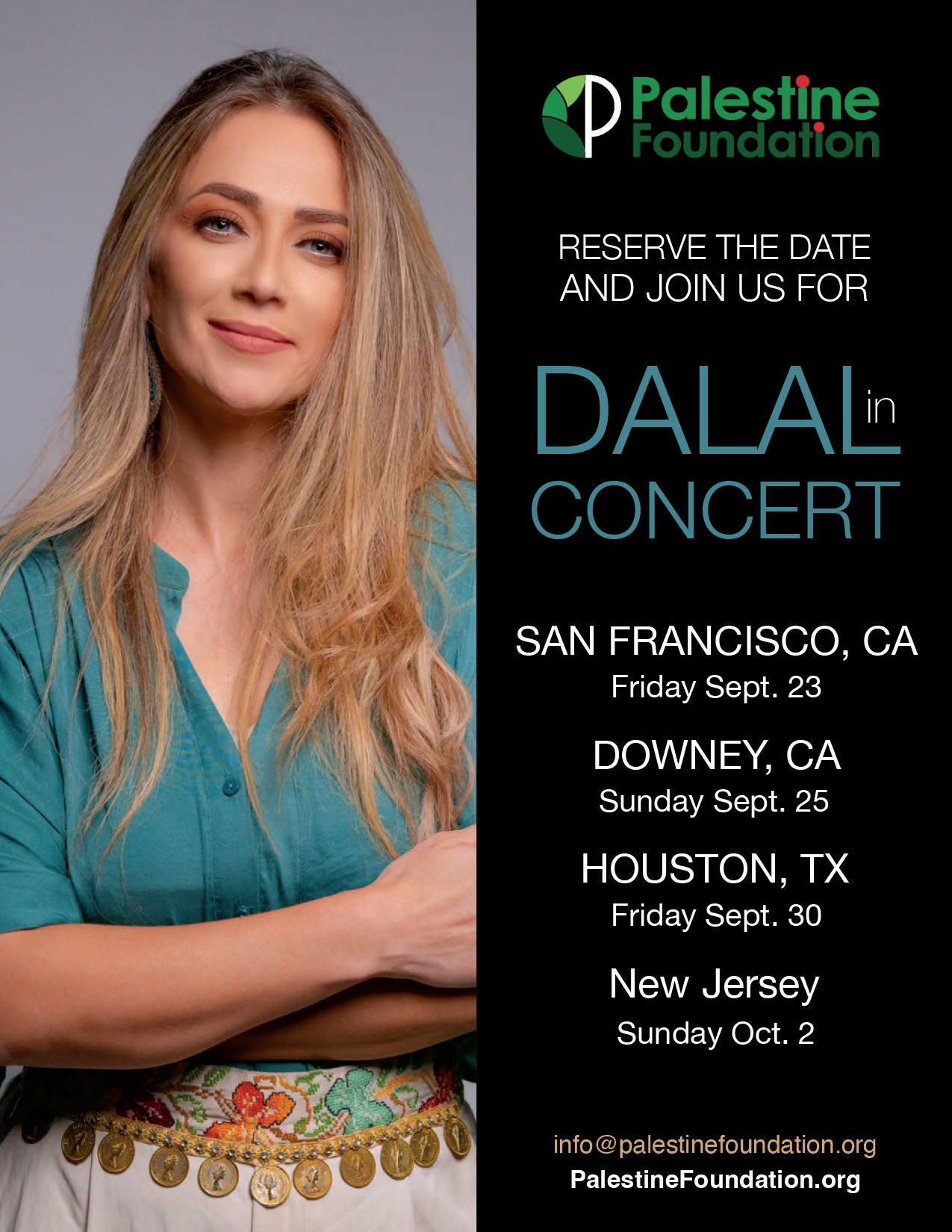 Please save the date and join us for...
DALAL ABU AMNEH IN CONCERT
U.S. TOUR
Four dates are scheduled for this benefit concert tour for the Palestine Foundation, bringing acclaimed Palestinian singer, producer and neuroscientist Dalal Abu Amneh to the United States. Four dates are planned, and we will shortly provide you with links to purchase tickets!
Get all of the updates: https://palestinefoundation.org/dalalabuamneh
San Francisco, CA - Friday, Sept 23:

7:00 pm, Capuchino-Samuel Johnson, Performing Arts Center,

1501 Magnolia Ave. – San Bruno, CA 94066

Los Angeles, CA - Sunday, Sept. 25: 5:00 pm, Downey Theater,

8435 Firestone Blvd. Downey, CA. 90241

Houston, TX - Friday, Sept 30: 7:00 pm, Stafford Centre, 10505 Cash Road Stafford, TX 77477
New Jersey - Sunday Oct 2: 5:00 pm, Venue to be announced shortly!
Please consider becoming a sponsor of this tour or the concert in your local area! Sponsors will be part of our promotion and visibly included throughout the event, and all of the contributions from these concerts will go to support Palestine Foundation's vital programs to support sustainable, creative Palestinian initiatives. Please contact us at info@palestinefoundation.org to learn more about becoming a sponsor!
One of our values is to bring JOY to people and education through the arts. To that end, we are serving as the fiscal sponsor for the Palestine Comedy Festival and encourage all to support!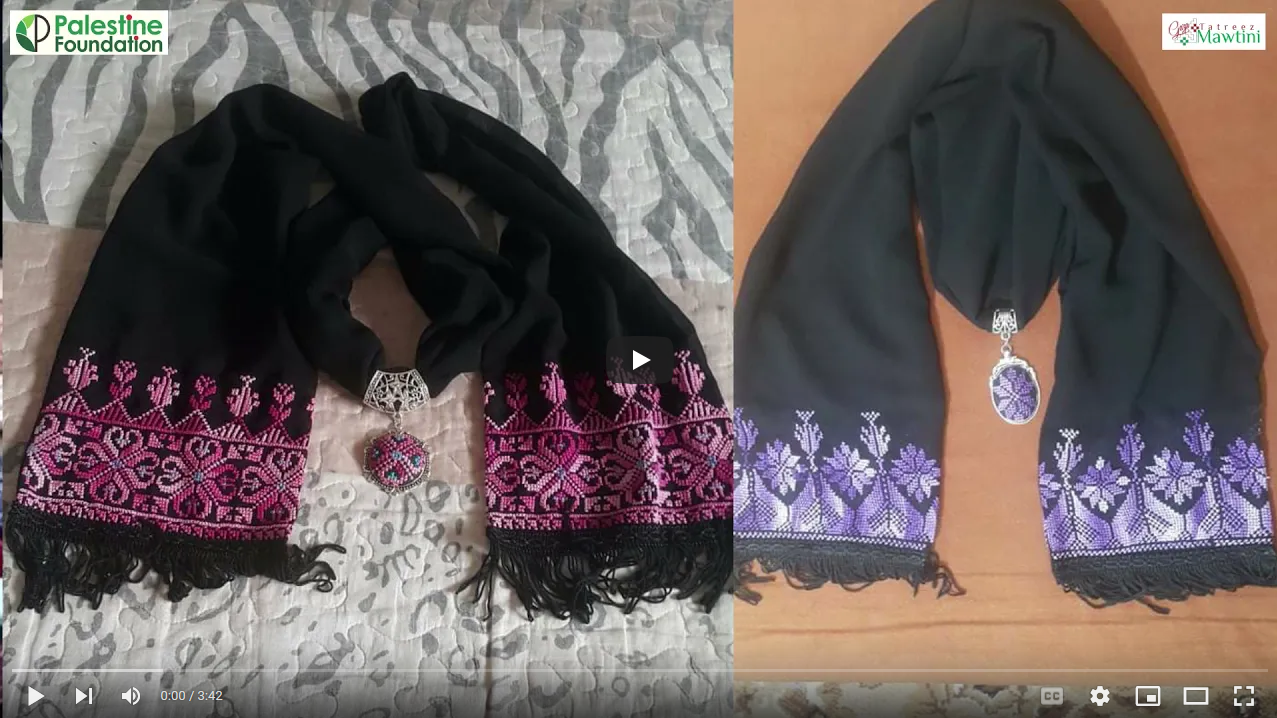 In this video, see and hear from the women of the Tatreez Mawtini project of the Palestine Foundation, supporting Palestinian women in Gaza with sustainable employment. Because of your support, the Palestine Foundation is now able to provide employment for 16 women in Gaza, producing traditional Palestinian embroidery and handicrafts.
We have brand new items and new stock available at our in-person bazaar, and we'll be introducing them soon to our online Mawtini Bazaar! Visit the Palestine Foundation Mawtini Bazaar to discover beautiful Palestinian goods for your home and for gifts. All proceeds go to support the sustainable work of the Palestine Foundation and Palestinian artisans.
Copyright © 2022 Palestine Foundation, All rights reserved.
You are receiving this email because you're an amazing person looking to make long-lasting positive changes in Palestine.

Our mailing address is:
Palestine Foundation
PO Box 791
Palos Verdes Estates, CA 90274

Email us: info@palestinefoundation.org
Call us: (970) FALESTN

A 501c3 Organization ● Tax ID: 47-5085277

Changed your mind? You can unsubscribe at any time.